Case Study
Introduction
Asheville, North Carolina is a small to medium-sized city in the mountains of Western North Carolina with a population just under 100,000. Asheville is the county seat of Buncombe County, which has a population of 260,000. Asheville and Buncombe County are committed to sustainability and are leaders in the state in municipal clean energy goals and sustainability policies. Surrounded by natural beauty and dense biodiversity in one of the world's oldest mountain ranges, the region draws millions of tourists every year and the city's population is growing.
Solarize Asheville-Buncombe launched in April 2021, led by a steering coalition of a dozen community organizations and individuals. It was initiated as part of a suite of strategies the Asheville-Buncombe community is taking to adopt more clean energy. Building a diverse steering coalition was key to this program's design and success. 
Solarize Asheville-Buncombe was led by Blue Horizons Project, a community clean-energy campaign housed at Asheville nonprofit Green Built Alliance in partnership with the City of Asheville, Buncombe County, and Solar Crowdsource. In addition to these four entities, a community steering coalition comprised of the WNC Sierra Club Chapter, Center for Biological Diversity, Green Opportunities, MountainTrue, Hood Huggers International, and Umoja Health, Wellness, and Justice Collective, and several individual community members worked together to design the campaign components, select solar contractors, and guide the campaign. Selecting community partners for the campaign involved significant outreach to partner organizations and individuals who were invested in an equitable transition to clean energy.
Blue Horizons Project staffed the Solarize Asheville-Buncombe campaign, with financial support from the City of Asheville and Buncombe County offices of sustainability. 
As of the date of this case study, the main campaign is over, with two final components remaining to be completed – a workforce development program and a donated solar energy system to a local nonprofit.

Solarize Asheville-Buncombe
Solarize campaigns are community-based programs that promote the widespread adoption of solar through a group pricing scheme. Solarize campaigns are designed to leverage the power of group purchasing to lower the cost of solar for all campaign participants. They utilize peers and social networks to spur solar adoption and often include components such as energy efficiency services, battery storage, and electric vehicle chargers in addition to solar energy systems. More than 350 solarize campaigns have taken place in the US since the first one in Portland, Oregon in 2009.  As limited-time group-purchase initiatives that strive to streamline and simplify the process of going solar, solarize campaigns are effective in expanding residential and commercial solar installations rapidly in a defined geographical area.
Prior to 2021, Asheville had two solarize campaigns in 2013 and 2014. In 2018, both Buncombe County and the City of Asheville adopted 100% renewable energy resolutions for municipal operations by 2030 and the whole county by 2042. The City of Asheville and Buncombe County commissioned a report by the Cadmus Group called Moving to 100 Percent: Renewable Energy Transition Pathways Analysis for Buncombe County and the City of Asheville. This report outlined four different pathways to achieve 100% renewable energy. Solarize campaigns were a recommended strategy from the report, with the recommendation of repeating solarize campaigns every two to three years. 
Solarize Asheville-Buncombe was planned starting in early 2020, with the steering coalition coalescing in late 2020 to prepare for a spring 2021 launch. The campaign set goals of having 500 sign-ups and 100 contracts for solar energy systems. Green Built Alliance partnered with Solar Crowdsource's platform for sign-ups. Solar Crowdsource provided marketing support, customer database management, a webpage for the campaign, and guided the RFP process for selecting solar contractors. This support was necessary due to the small size of the staff and limited resources at Green Built Alliance. 
Essential to Solarize Asheville-Buncombe was a workforce development program and pathway for low- and moderate-income households to participate in the campaign. The focus on prioritizing environmental justice set this campaign apart from other solarize campaigns. 
The campaign launched on April 7, 2021. As it was still the middle of the COVID-19 pandemic, the launch and all associated educational outreach events were virtual. This didn't seem to hinder participation. Two hundred people signed up for the campaign launch event. 
The Solarize Asheville-Buncombe campaign brought down the cost of solar for all participants thanks to bulk discounts on solar panels, batteries, and equipment, and reduced installer costs on marketing and lead generation.
The solar installers for residential and commercial installations were pre-selected via a competitive RFP process, and pricing was tiered, meaning that prices per watt installed went down as more participants signed contracts with the installer. 
The campaign was wildly successful and surpassed all expectations. Just five weeks after launching in April 2021, the campaign reached its lowest residential pricing tier of $2.45 per watt of solar installed, which realized savings of 10 to 20 percent compared to non-campaign pricing.
A series of educational sessions ranging from Solar 101 to financing to a deep dive into solar proposals were scheduled throughout the campaign from April to December 2021 to facilitate the community's understanding of the benefits of solar energy as well as the workings of the campaign's tiered pricing model.
The City of Asheville was one of twenty-one local governments selected to participate in a cohort of city governments planning to implement solarize campaigns. This cohort was led by World Resources Institute and the Rocky Mountain Institute (RMI) and provided eight workshops, technical assistance, knowledge-sharing, and tracking of campaign results and equity initiatives and impact. Solarize Asheville-Buncombe had the most solar installations out of all campaigns in the cohort with 182 contracts signed. 
Neighbor to Neighbor Solar
Too often, the economic and environmental benefits of residential solar are out of reach for families of low and moderate incomes. Solarize Asheville-Buncombe's Neighbor to Neighbor program strove to offer solar installations free or deeply-discounted for families making below 100 percent of Buncombe County's area median income (AMI). 
Local data on energy burdens shows that Buncombe County's communities of color, low-income families, and households in formerly redlined neighborhoods experience the greatest energy burden, meaning these households pay a disproportionate share of their already limited income on energy costs. Neighbor to Neighbor Solar was designed to help alleviate the energy burden borne by these households and to move toward a more just and equitable clean energy future for Buncombe County.
By the campaign's end, Neighbor to Neighbor Solar funded solar panel installations on the roofs of 12 low- and moderate-income households. Eleven of these were fully-funded, and one was partially-funded based on household income. In addition to income requirements, participating homes also had to meet criteria related to sun exposure and roof age.
By permanently reducing their utility costs through the solar installations, these households will have more money for crucial family expenses such as food and medication, and hopefully be less vulnerable to the effects of climate change moving forward. 
"I've thought about solar for a very long time, did my research, but the prices were just out of my price range," said Neighbor to Neighbor recipient Millicent Johnson of Weaverville. "Having solar means more money in my pocket, so I can do other things. … Words can't even describe how grateful I am for this program."
Funding for these systems was provided by grants from the City of Asheville, Buncombe County, and individual donations. 
Neighbor to Neighbor Solar is planned to continue into 2023 beyond the campaign.
Workforce Development
Solarize Asheville-Buncombe partnered with Green Opportunities, a local workforce development organization whose mission is to support marginalized communities toward employment through job training and service. Five trainees are slated to receive training onsite from Titan Solar at Solarize Asheville-Buncombe installations in the spring and summer of 2022.
Challenges
Launching a community-focused solarize campaign in the middle of a global pandemic presented many challenges. The steering coalition was able to come together in person just a handful of times, mostly outdoors. Had the steering coalition and campaign events been able to be in-person, the campaign may have seen greater success.
Another principal challenge arose when engaging with the local solar installer community. A campaign with a goal of one hundred installations presented a capacity challenge to some of the smaller local installers, some of whom max out at a hundred installations per year. Paired with the confusion of tiered pricing and campaign constraints such as the fee that Solar Crowdsource levied on each contract, Solarize Asheville-Buncombe was not appealing to many local installers. It was the steering coalition's wish to engage with one or more local solar contractors, but that did not come to fruition. 
At the time of the campaign, Duke Energy provided a solar rebate program. This rebate was available by a lottery, and there was some confusion with some campaign participants expecting the rebate or factoring it into their decision-making process for signing a contract, when the rebate was not a sure shot.
Solarize Asheville-Buncombe selected Summit Solar as its solar installer partner. A couple of months after the campaign launch, Summit Solar was bought by Titan Solar, one of the largest solar companies in the US. While Summit Solar has many good customer reviews and emphasized top-notch quality and customer experience, TItan Solar has a more negative reputation and reviews. This was out of the control of the campaign and ended up causing confusion for some campaign participants who were expecting to work with Summit Solar but ended up working with Titan Solar instead. As campaign installations got underway, there were some quality control and customer complaints about Titan Solar. 
Commercial installations presented another challenge. The team knew going into the campaign that solarize campaigns tend to comprise primarily residential solar installations. Despite efforts to engage with the business community in Asheville through connecting with the Chamber of Commerce and local business associations, the campaign netted just two commercial installations totaling 27.6 kW. This was a disappointment to both the campaign and our commercial solar installer, Renu Energy. 
Lastly, Solarize Asheville-Buncombe's workforce development program and Neighbor to Neighbor Solar program were unconventional aspects of the campaign. Working with a solar installer that was used to primarily working with traditional customers and helping them understand the details of how workforce development and the low- to moderate-income program worked was a challenge at times. Neighbor to Neighbor Solar participants sometimes lacked access to internet or cell phones, and the solar installer utilized electronic contracts, presenting a challenge. Additionally, in order to file for interconnection with the electric grid, customers' utility bills and homeowner's insurance policies must have the same name and spelling on them. Volunteers with Neighbor to Neighbor Solar often did site visits to help with these challenges and to help facilitate these projects.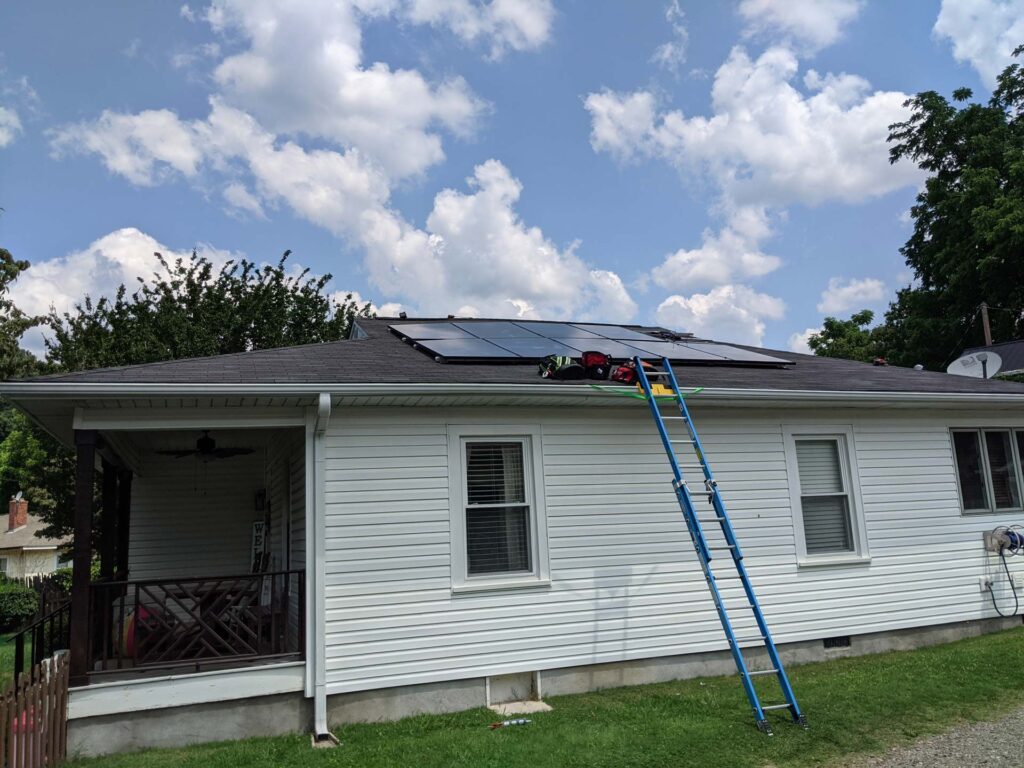 Results
Solarize Asheville-Buncombe had 729 sign-ups and 182 contracts for solar energy systems signed, well-exceeding its goals of 500 sign-ups and 100 contracts. 
These 182 systems equate to 2,009,732 kWh produced annually and an estimated $251,215 in annual utility bill savings for homeowners. 
Community-wide, the campaign added more than $4.69 million in new clean energy development and eliminated as much as 2,689,753 Ibs of CO2 annually from the local environment. This is equivalent to removing as many as 1,344 tons and 163 cars from local roadways for one year. Added battery/energy storage as a result of the campaign equaled 125 kWh. 
"Asheville was among 20 U.S. communities that took part in RMI's Residential Solar Cohort program in 2021," said Ryan Shea, senior associate at RMI, an independent nonprofit based in Boulder, Colo., focused on transforming energy systems globally. "Their effort resulted in the most resident participation and rooftop solar installed out of any campaign, largely due to their effective community-led outreach and the dedicated local government and community partners." 
"The Solarize Asheville Buncombe campaign provided an incredible jump-start in 2021 toward increasing renewable energy use in our community," said Brownie Newman, Buncombe County Commission chair. "The campaign was another important pathway to meeting our goal of 100 percent renewable energy for county operations by 2030 and for the entire community by 2042."
Asheville Mayor Esther Manheimer said: "The City of Asheville is proud to partner with Solarize Asheville-Buncombe in supporting our community to take proactive climate action. While the City is working diligently to address our internal carbon reduction and renewable energy goals, it is inspiring to see the enthusiastic embrace of the Solarize campaign as residents strive to address our climate emergency. This is just one energy solution that will get us towards our community-wide goal of 100 percent renewable energy by 2042."
Added Sam Ruark, Executive Director of Green Built Alliance: "It will ultimately take the combined efforts of governments, nonprofits, businesses, and all citizens to reduce our collective fossil-fuel footprint. By working together in partnership with multiple organizations and stakeholders, Solarize Asheville Buncombe exceeded expectations and was a significant leap forward for renewable energy in our community."
From its conception by a coalition of local organizations in late 2020 to its community launch in April 2021 and through its completion on October 31, 2021 the Solarize Asheville Buncombe campaign was designed to spark new interest in solar power by communicating its benefits and reducing its entry price. 
Community Project
Another key benefit of the campaign's success is a solar energy system to be provided free to a worthy local nonprofit organization. This system will help reduce ongoing electricity costs, freeing up funds for the recipient organization to help achieve its mission more economically.
At the time of this case study, a community project nonprofit recipient had yet to be selected. Following a request for proposals, 15 local nonprofit organizations applied to be recipients of a solar energy system worth $60-$80,000.  In the selection process, the Solarize Asheville-Buncombe steering coalition is taking into account the mission of the organizations and their positive impact on the community as well as their facility's suitability for solar including condition of their roof, potential shading, and energy needs.  The recipient organization will be chosen in spring 2022 by the Solarize Asheville-Buncombe steering coalition and the installation is planned for fall 2022. 
Lessons Learned & Recommendations
Try to time future campaign installations in the first three quarters of the year. The fourth quarter is a very busy time for solar installers and there is potential for delays as they work to wrap up their year.

On the front end of a campaign, make time for community engagement and outreach to local solar contractors to get input on the campaign. If local installers are not able to handle the potential volume of work from the campaign, discuss the opportunity for them to create a collaboration to share client leads. To ensure pricing is consistent, installers will need to agree on a price per watt for installations. 

Ensure solar installers are not overstating estimated system production, proposing panels on north-facing roof surfaces, and oversizing systems.

Have a dedicated manager of any workforce development low- and moderate-income campaign components. These programs need careful attention and care to ensure success. 

Have a plan to track program metrics regularly through the campaign.

Realize that solarize campaigns are typically heavily-weighted toward residential installations. Solarize Asheville-Buncombe included just two commercial installations totaling 27.6 kW. 
Contact