Presenting
The Blue Horizons Project
Setting The Course For Clean Energy
Do you want a clean, bright future for Buncombe County? We do.
The Blue Horizons Project is all about making a clean energy future a reality in Buncombe County and preserving our skies and waters for generations to come. Here you'll find information, resources, and tips for how we can all help make that happen.
Our demand for energy demands action
With a growing population and increasingly technology-dependent culture, the energy needs of Buncombe County have grown – and continue to grow – significantly larger. Soon, our energy demand will strain our ability to meet it.
In our area, it's winter that presents the greatest challenge. During the coldest days, the amount of energy we need to heat our homes spikes sharply.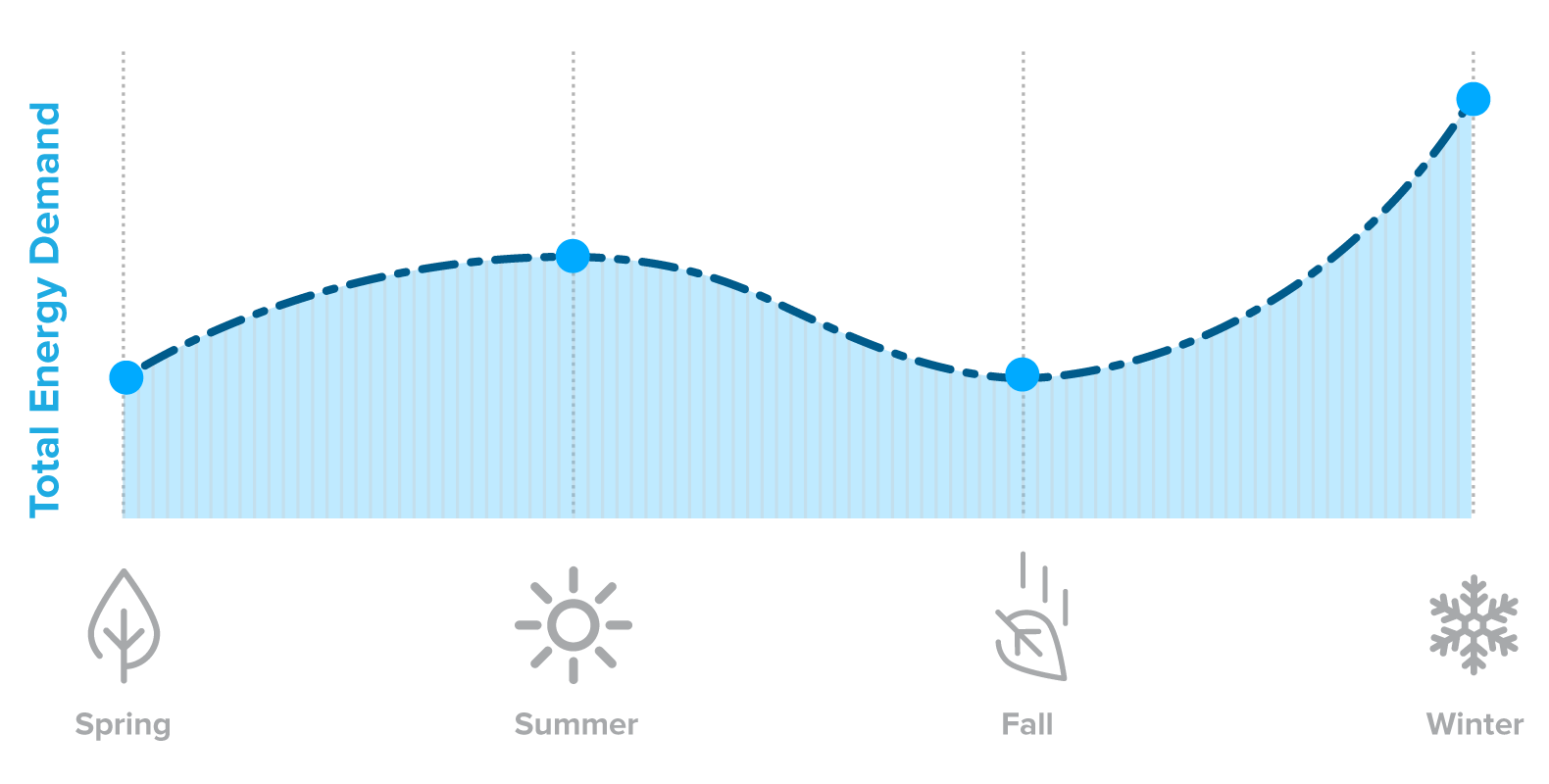 There are two ways we could solve our peak demand problem: find ways to lower our demand or generate more energy. As much progress as we're making in renewable energy, there's more we need to do to solve our peak problem. But is it a good idea to construct more fossil-fuel power plants just to meet energy demand on the coldest winter mornings? We don't think so. Not when there are better ways – and we have some.
What we're doing about it
The Blue Horizons Project is the brainchild of the Energy Innovation Task Force (EITF) – an initiative jointly undertaken by the City of Asheville, Buncombe County and Duke Energy. Our members include representatives from local government, businesses and institutions along with environmental and clean energy advocates. The Blue Horizons Project was developed to enlist public support and provide easy access to resources that allow everyone to be a part of creating a clean energy future.
How you can help
Several organizations have partnered with the Blue Horizons Project and have programs designed to help your home or business become more energy efficient and contribute to efforts to control our area's energy demand. Choose My Home or My Business below to get started!
News & Events
Check out the latest news, events, and more from the Blue Horizons Project.
FOR IMMEDIATE RELEASE                                                        ...
Read More

→
Here are upcoming events to support and attend! We hope to see you! Brew Horizons Beer Fest Our second annual fundraiser is around the corner, and we're excited to welcome ...
Read More

→
Blue Horizons Project 2019 Reflections: Thank you for being part of our community here in WNC! As the year winds down, we are taking time to reflect on our 2019 work ...
Read More

→
Get Involved
We'll be adding more ways to get involved, events and additional information as they are developed. Sign up for our mailing list and we'll make sure you hear about them.